LIFE SKILLS THROUGH MARTIAL ARTS
ATA Tigers is our program for children 3-6 years old
The ATA Tigers program was developed specifically for preschool age children with classes that are 30 minutes long. This program offers children a strong foundation in essential character qualities such as courtesy, respect, and discipline. In addition, the program is designed to improve children's motor skills and enhance their ability to pay attention and follow directions. All classes are taught using the most safe, fun, and exciting instruction methods available for this age group. This program works in conjunction with the Karate for Kids program, thereby emphasizing the same important monthly themes and value system.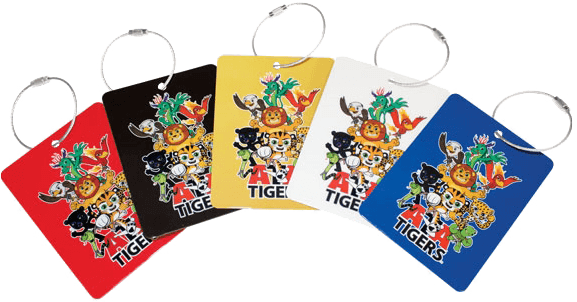 Similar to the Karate for Kids program, ATA Tigers have their own unique reward system through the use of Star Tags — like a luggage tag, attached to their backpack or gear bag. Stars can be earned in the same way as the Karate for Kids program, with slight modifications in recognition of the preschool age of the child. Five different colored Star Tags are available to accommodate all the Victory Star stickers that can be earned by a high achieving ATA Tiger.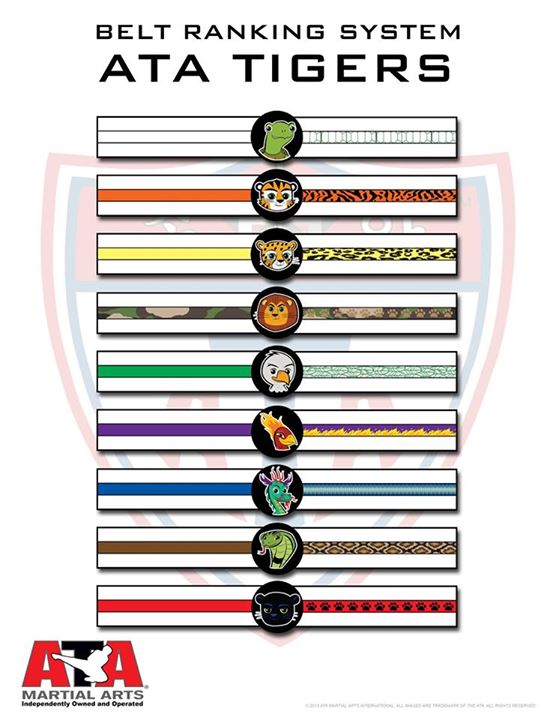 The rank and testing system used by the ATA Tigers is slightly different than that of the Karate for Kids. At each level, students earn their belt AND a cool animal patch for their uniform. Plus, their ATA Tiger belts are white belts with a either a colored or a patterned stripe down the middle indicating that student's rank. The colors are similar to those of the Karate for Kids ranks, but the animal patterns match the particular animal/character for that rank. You can find out more about the Tiger characters on the ATA Tigers website.
Upon graduation from the ATA Tigers program, the student moves into the Karate for Kids program and has the opportunity to wear the standard ATA uniform including the Karate for Kids Victory Patch.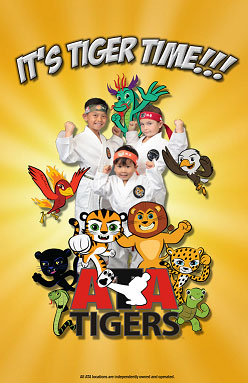 Benefits of the ATA Tiger Program
We focus on listening skills in all of our classes. Tigers learn to actually listen to what is being said instead of just sort of hearing adults talk!
Children's self defense takes many forms. The "ATA Tiger" program teaches children to be aware of things around them, to avoid bad situations, look for helpful and safe adults, and how to get help if needed.  We also work with the Tigers on how to get away if they are grabbed!
Our program focuses on teaching children to respect themselves and others. Respect for adults starts with being polite.
Coordination is still a struggle for many students at this age.  We work with them to not just build coordination but to enjoy the experience of working on it. Our program improves the entire body, developing coordination, balance & agility.  Our material emphasize both the left and right side of the body. This attention to entire body improves the students balance, eye to hand coordination, reaction time, and complements many other sports, such as soccer, baseball, softball, football, basketball, and gymnastics.
 Our program helps each child to determine what their personal goals are. We use a system of patches, "Karate Klips", and patches to help them be rewarded instantly as well as work towards longer term goals!
Our instructors and many of our students provide the opportunity for positive role models. Your Tiger student will also get to work with other students so they can see role models in other children.
ATA Tiger classes are dynamic, exciting, and fast paced – just like them! The classes are designed to meet the level of all our students whether they are athletic, energetic, awkward or shy, bold, nice, or maybe even a little wild once in awhile…
WHAT MORE ARE YOU LOOKING FOR?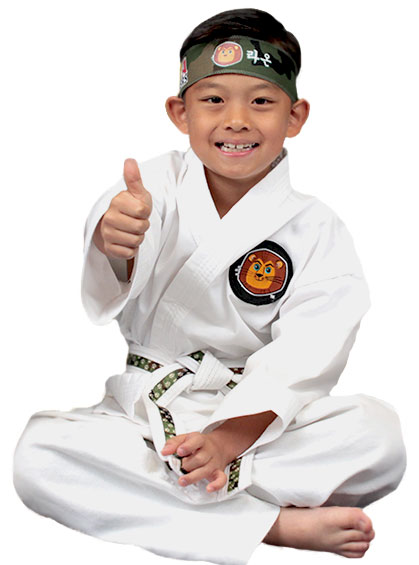 TEACHING LIFE SKILLS IN AN EXCITING WAY!
The students won't even realize that they are working on Self-Control, Discipline, & Focus – but you'll see the results!
Nationally Certified Instructors