LIFE SKILLS THROUGH MARTIAL ARTS
Teens & Adults from age 15+ can enter this program. Some students come to us physically fit, while some do not. Many enter the ATA program with limited flexibility. We train our students to the best of their ability. We work with all students, and challenge them with a program modified based on their abilities. Many accomplished or successful athletes have joined the ATA to complement their sports training and give them the "edge" on their competition!
Adults start at any age. Some adults join the ATA as late as age 65, and have still earned their black belts. As a student, you are looked upon as an individual, never compared to anyone else. Our instructors will be there every step of the way. All that is expected of you is a willingness to work and improve to the best of your own ability.
Our belt/rank systems include 9 color belts or "grades" and 9 levels of black belts or "degrees". The color belts, in order from beginner to advanced student, are white, orange, yellow, camouflage, green, purple, blue, brown, red. There is a transitional rank, recommended 1st degree black belt rank, signified by a half-red/half-black belt. Then, the black belt ranks ranging from 1st degree to 9th degree. More details on our ranking system can be found on the 
ATA website
.
Benefits of the Teens & Adults Program
We can't teach you Self-Confidence – no one can.  But what we can do is create an environment that is fun, challenging, and ready for you to develop self-confidence on your own! Being able to see the benefits of the program for yourself helps many of our students to either gain back their self-confidence or develop it for the very first time.
When the speed and power developed through Taekwondo is used in a self-defense situation against the vulnerable parts of an attacker's body, the results can be incredible. Taekwondo allows a student to emphasize many of their natural physical strengths, such as power in the legs, while learning a method of self-defense efficient against a much larger opponent. Knowing you can defend yourself, your confidence will grow. And confidence alone is usually enough to deter potential attackers.
Our Self-Defense curriculum also incorporates many different techniques and styles.  We incorporate the best of them including ground defense from Brazilian Jiu Jitsu, weapons defense from Krav Maga, and more.  We believe in having self-defense that you can test safely in class and will leave knowing that it works!
Our workouts are designed to improve your fitness regardless of your starting level.  Our instructors will modify workouts to make sure that everyone has a realistic workout whether you haven't worked out in years or are already an elite athlete. While training hard you will not only get in better shape, you're confidence will grow as you feel better, sleep better, and have more energy!
While our Karate Kid program has the same curriculum as our Adults – we run the classes very differently.  Our classes are designed to be fun and challenging while still providing maximum benefits for our students!
WHAT MORE ARE YOU LOOKING FOR?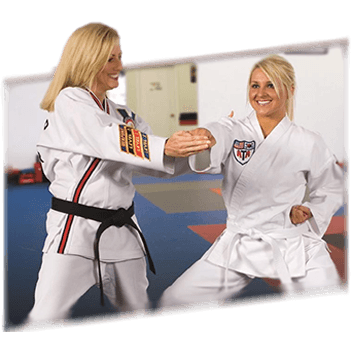 TEACHING LIFE SKILLS IN AN EXCITING WAY!
Together we'll have great workouts, develop new skills, and help you improve your personal goals!
Nationally Certified Instructors