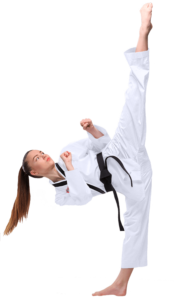 At ATA Madison West, we provide top notch classes, taught by certified instructors, in a positive and family friendly environment. We accept students of all ages and abilities, starting at their current physical fitness and experience level, helping them set realistic yet challenging goals which they achieve while having fun and making new friends.

I had studied taekwondo back in high school but hadn't kept up with it. I had very warm memories of my time with the ATA, though, so when my son was 7 I decided to check out ATA Madison West. It was such a great experience that I signed back up as well, and convinced my wife and daughter to join too!
ATA Madison West is a very friendly and supportive environment, with awesome students and instructors. Everyone works together to help each other achieve their best, so it's a great place to start even if you have no martial arts experience.
While the school is privately owned, it is part of the ATA (formerly American Taekwondo Association) which is one of the largest taekwondo organizations in the U.S. This was a huge advantage to me because the curriculum is consistent from school to school. Even if you end up moving somewhere else, you'll likely be near another ATA school and can pick up exactly where you left off. (My high school studies were in North Carolina 20 years ago!)
Fantastic school, fantastic people. Great place to train yourself physically and mentally, and learn some self-defense to boot!"
– Mike B
"Yes, yes, yes! After having a terrible experience up the road with a different Taekwondo establishment, I know we found our home. Buyer beware of a place that pushes past accolades, or their father's past accolades. We had experience with a different ATA organization before we moved here, and I wish we had sought out ATA again. Instead, we found a place close to home and the difference is night and day. ATA focuses on character development, real skills, encouraging kids and preventing bullying. The other place focused on money. If you have any doubts, please just try ATA West. My 7 year old came home tonight asking me what he could do to learn more about self-discipline. He has committed to caring for our dog and running nightly clean-ups-encouraging the whole family to do this. He wants to show us that he can take initiative and do these things without being reminded. I have no doubt he will follow through. This is why I love the ATA program. It is holistic and truly helps your child develop virtues that serve them for a life time.

– Katherine R